Pro-Cut Vinyl Stickers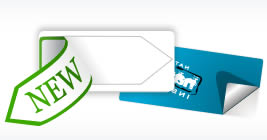 Key Features
Learn More
Key Features:
Sizes: 3" x 3", 3" x 5", 5" x 5", 6" x 6"
For Custom Sizes please submit Custom Quote Request
Stocks: Sticker Paper stock or Vinyl Stock
Full color CMYK /PMS (Pantone Matching System) Printing Process
Free Shipping and Handling (only within USA)
100% quality and Customer Satisfaction is Guaranteed!
Glossy or Matte Lamination available
If you are unable to find the desired information about this product, Click here to get a custom quote or ask our Live Support team. You can also call us at 630-233-8508 for further assistance.
Stickers are used in different manners all over the world. The versatility present in stickers makes them of great use for almost all walks of life. They are equally important at homes as well as offices. Among stickers family pro-cut vinyl stickers are used extensively at schools and academic related works as they can be utilized in an easy way as compared to other stickers because of their unique design. Many companies provide quality services to customers regarding printing of pro-cut stickers. Online companies are also playing positive role in maintaining competition in market.
Idsketch is providing quality printing services to its customers from last fifteen years. We specialize in all sorts of printing and facilitate our customers with free online chat support along with free designing to ensure their printing needs. We at idsketch guarantee economical pro-cut vinyl sticker printing. All stickers are produced in different sizes including 3" x 3", 3" x 5", 5" x 5", and 6" x 6". Full color CMYK /PMS (Pantone Matching System) Printing Process is applied for printing all vinyl stickers. We also provide free shipping and Handling across USA. We make our optimum effort to ensure 100% quality and Customer satisfaction.